IAM Plant Biotech Unit

---

Plant Pathology Webpages

Site map
Virus diseases
ACLSV
ApMV
ASGV
ASPV
PPV
PDV
PNRSV
ArMV
ToRSV
RpRSV
SLRSV
GFLV
GLRaV-1
GLRaV-3
LChV
CMLV
CRMV
CNRMV
CGRMV
ChTLV
CVA

Virus diseases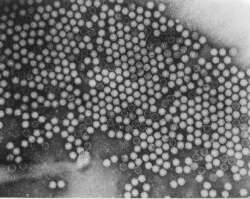 Fruit trees may be affected by a number of viruses and phytoplasmas causing different diseases. They may be latent in many cases - showing symptoms only on indicator species - or cause lethal or crippling effects.

Yield losses may vary between cultivars and viral strains or depend on environmental factors. They have considerable economic impact and are therefore of major concern to worldwide phytosanitary agencies.

Since there exists no cure to an infected tree, preventive measures, i.e. the use of virus free planting material is the best way to control their impact. At least in the case of pome fruit material this will guarantee an improved health status of the orchards over a considerable period of time.

Indeed it is necessary here to differentiate according to the mode of transmission of the different viruses: filamentous viruses have no known vectors and are propagated only vegetatively or by grafting. Therefore plants that are free of filamentous viruses would remain healthy.

Plants infected with viruses transmitted by nematodes (Nepovirus), by pollen (Ilarvirus) or by aphids (Potyvirus) need however continuous control after sanitation (epidemiological survey, eradication and/or control of the vectors). The same holds true for diseases caused by phytoplasmas.

If no pathogen-free planting material of a chosen cultivar is available, attempts must be made to free the plant from the virus.

A foundation stock of mother plants must be maintained virus free under conditions avoiding air- or soilborne re-infection, which is best achieved in an insect-proof screenhouse.
---
last updated October 8, 2001 by Siegfried.Huss
---